Our Clubs are proud to recognize the dedication and heart for our mission that is present in the role of Chief Executive Office, Mrs. Karen Englert. Over the past two years, Karen has worked to develop the Boys & Girls Clubs of St. Charles County's staff, focus donors around the central mission of the organization, and open new doors for community partners to invest in our kids. Beyond Exclamation Magazine has called Karen's awesome work ethic and shared vision to the forefront of influential women by naming her to the Top 10 Most Inspiring Businesswomen of Influence in 2021.
Karen's educational background and interests focus on special education, marginalized groups, and the need for early-childhood literacy. She comes to the Clubs with a history in education and non-profit leadership. "Service in and for your community" was a mindset established at a young age for Karen. Her mother instilled a love for volunteering to raise those in need, regardless of whether that need was physical, mental, or emotional. Now she aims to instill a similar passion and joy for service in her staff.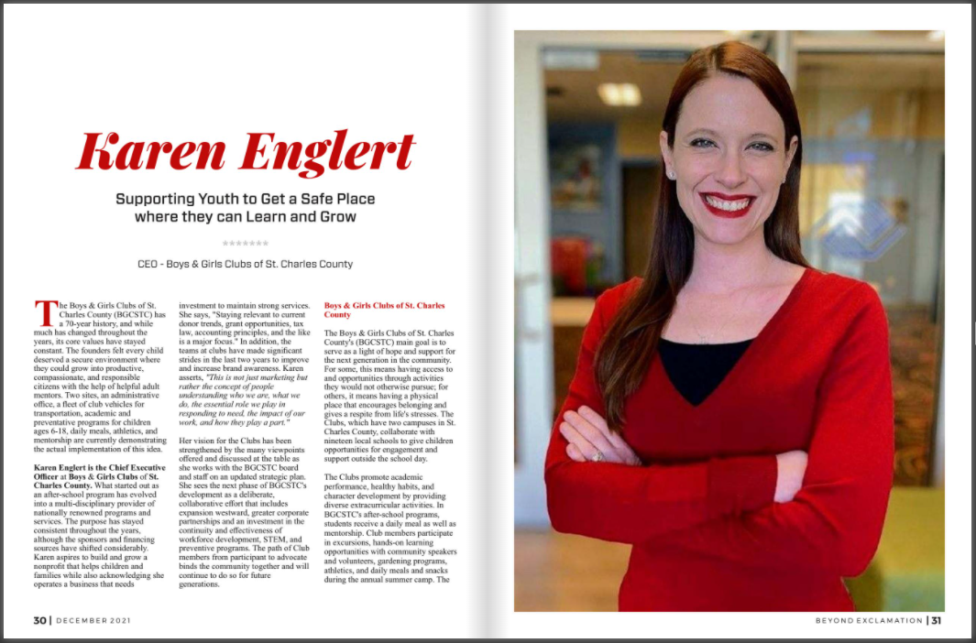 Karen's influence stems from her advocacy for people to set the bar higher and keep themselves challenged. The actions the Boys & Girls Club team takes collectively in both obvious and subtle ways are what all add up to the culture they share as a team. Karen opines, "How we serve our families and community models behavior and intentionality for our children to embrace as their own." According to Karen, there is no better way to build leave a positive mark on your community than investing in those who will build its future - the kids!

To read more about Karen's inspiring vision, visit the Beyond Exclamation Magazine blog highlight HERE.
Sponsors
We are thankful for our annual partners and community supporters!