Every year, 4.3 million young people are served by Boys & Girls Clubs. To show their continued support, Murphy USA Inc. (NYSE: MUSA) is partnering with Boys & Girls Clubs of America to kick off the first phase of the "Great Futures Fueled Here" cause campaign. Beginning April 6, customers in Lake St. Louis, Troy, or Washington can make a monetary contribution at checkout at their nearest Murphy USA location. Donations will support Boys & Girls Clubs of St. Charles County.
"Murphy USA is excited to begin year 3 of our Great Futures Fueled Here Campaign, a bi-annual round-up fundraiser for Boys & Girls Clubs of America," said Renee Bacon. "Since we launched this program in 2020, we have raised over $3.1M dollars to support kids and teens at local Boys & Girls Clubs across the country, and we are just getting started! With nearly 1,650 stores across 27 states, we are dedicated to giving back in the communities we live, work, and serve. Our commitment to America's youth does not have an end date, and we look forward to partnering with our employees and customers to meet those needs. TOGETHER we can fuel great futures for local kids."
Campaign facts:
Murphy USA invites customers to round up or donate, $1, $5, and $10 at the register April 6th- July 5th to Boys & Girls Clubs.
Proceeds raised at each store will benefit Boys & Girls Clubs of St. Charles County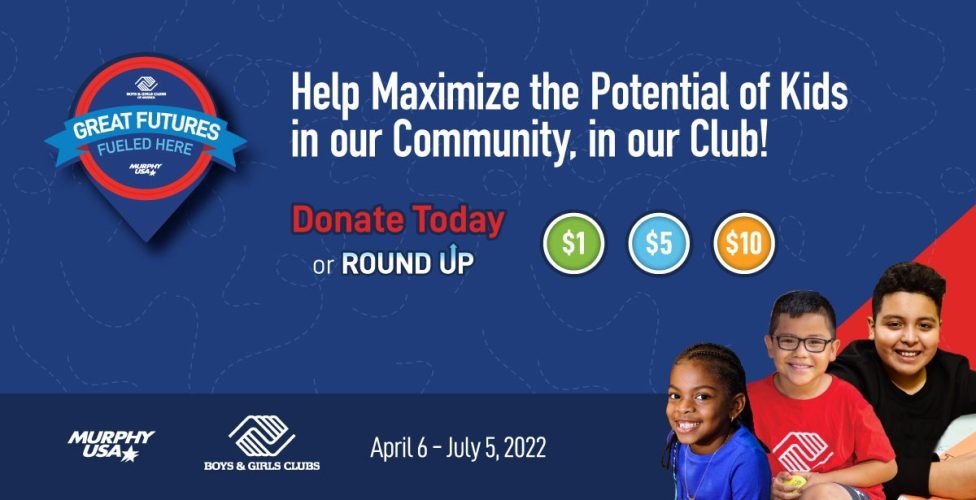 Murphy USA (NYSE: MUSA) is a leading retailer of gasoline and convenience merchandise with more than 1,650 stations located primarily in the Southwest, Southeast, Midwest, and Northeast United States. The company and its team of nearly 15,000 employees serve an estimated 2.0 million customers each day through its network of retail gasoline and convenience stations in 27 states. Many of Murphy USA's sites are in close proximity to Walmart stores. The company also markets gasoline and other products at standalone stores under the Murphy Express and QuickChek brands. Murphy USA ranks 322 among Fortune 500 companies. For more information, please visit www.murphyusa.com.

Sponsors
We are thankful for our annual partners and community supporters!